–
THANDE-GARAM LUKME
–
Appetizers
Onion fritters
(best with beer & apperitifs)
Assorted appetizers, includes veg & chicken pakoras,
cocktail samosas & onion bhajia, serves 2-3 people
Assorted vegetable fritters in
split gram batter
Basa fillets, with split gram batter,
deep fried to perfection
Soft homemade cottage cheese fritters,
deep fried with chick peas flour batter
Your chef's
recommendation
Juicy chicken fritters served
with tamarind sauce
Flaky pastry stuffed with lightly
pieced peas and potato
A south indian speciality. Lentil based
chicken broth, mildly curried
Cream of tomatoes served
with crispy croutons
–
MURGH KI RASOI
–
CHICKEN SPECIALITIES
Delicious preparation julienne of tandoori
chicken cooked in an exquisite creamy tomato sauce
Traditional recipe from punjab
region "DHABA" is a road side eatery
Barbequed chicken morsels cooked in
an aromatic delicious zesty sauce
Ground chicken lightly cooked
with fresh ginger & garlic
Curried chicken cooked with chopped fresh spinach
Chicken curry with pickled seasonings
–
GHOSHT KI RASOI
–
LAMB & GOAT SPECIALITIES
romatic lamb Curry of persian origin, which is one
of the signature recipes of Kashmiri cuisine
PATIALE WALI GOAT CURRY 16
From the royal kitchens of patiala, in the punjab
state goat curried with fine chopped onions & spices
Bhuna ghosht is a traditional lamb curry with thicker consistency. The "Bhuna" – pan frying the meat with spices.
The meat cooks in its own juices, which is what gives it the deep flavour
–
DARIYAYI NAMOONE
–
SEAFOOD SPECIALITIES
King prawns sauteed with fresh vegetables
Cooked in coconut milk: Quite Spicy!!
Large prawns sauteed with ginger-garlic,
golden onions
Cooked bombay style in a light curry sauce
with tomatoes
–
VAISHNAV BHOJAN BHANDAR
–
VEGETARIAN SPECIALITIES
Sauteed with cumin seeds & herbs
Garbanzo peas cooked with onions, tomato & spices
Masoor lentils cooked homestyle,
sauteed with ginger & garlic
Mixed lentils cooked with cream &
aromatic spices.
Freshly chopped spinach & homemade
cottage cheese, sauted with fresh garlic
Croquettes of fresh cheese simmered in
a light curry sauce
Fresh cauliflower & potato cooked with
masala in a steampot
METHI MUSHROOM KAJU MATTAR 13
Curried mushrooms with cashew nuts &
green peas
Homemade cottage cheese cooked with
garden peas & indian spices
Soft home made cottage cheese stewed
with pickeled seasonings
Fresh lady fingers lightly sauteed with onion,
herbs & mustard seeds
Our fresh home made, soft cottage cheese
stewed in a creamy tomato gravy
–
BOMBAY PALACE SIGNATURE RECIPIES
–
CUSTOMIZE THE FAMOUS SAUCES WITH YOUR CHOICE OF PROTEIN

A fiery red hot curry sauce, speciality of Goa,
If you can handle the heat, must try!!
Lightly spiced cooked with yogurt
& almond sauce
A speciality from the nilgiri hills, curried
in fresh mint & coriander sauce
Traditional recipe from madras, cooked with
coconut milk, quite spicy
Parsi wedding speciality, stewed with freshly ground
spices & dry apricots, garnished with fine straw
fried potatoes
A pakistani speciality, cooked with ginger, green
peppers, tomatoes & garam masala in a
deep iron wok
LAMB OR GOAT 16    CHICKEN 16    SHRIMP 20    PANEER 15
–
THE HAKKA KITCHEN
–
Indian Chinese Fusion cuisine is the adaptation of Chinese seasoning & cooking echniques to Indian tastes, Hakka Cuisine is an integral part of the Indian culinary
THE FAMOUS HAKKA "CHILLI"
Most popular hakka dish, chicken fish or paneer
wokked with chinese seasonings Available in gravy or dry
CHICKEN 16 FISH 16 PANEER 14
Our signature honey garlic sauce,
sweet & spicy!!
CHICKEN 16 FISH 16 CAULIFLOWER 12
CHICKEN 12 SHRIMP 14 VEG 12
CHICKEN 12 SHRIMP 14 VEG 10
–
INDIAN STREET FOOD
–
LIGHTER FARE
A combination of chana masala, a chick pea curry
& Bhatura a fried leavened bread
Aloo tikki is a famous Northern Indian dish small,
otato cutlets dressed with tamarind sauce,
yogurt & chick peas
Samosas topped with chick peas, tamarind
sauce & chopped onions
A medley of garbanzo peas, potatoes & flour crisps,
topped with chutney & yogurt dressing
Homemade cottage cheese in its crumbles natural form,
cooked with with onions, tomatoes, ginger and garlic,
rolled into a Naan Bread
Julienne on Grilled Tandoori Chicken Tikka,
rolled into a Naan Bread
Tandoor is a clay oven in which coal in a glow at all times. Meat, poultry fish & kebabs are stuck on a lent skewer & grilled over coal, never actually touching the coal. North Indian breads are baked in the tandoor by slapping them on the hot internal surface at the tandoor.
Half Chicken – spring chicken marinated overnight in our special marinade of yogurt with
freshly ground spice grilled in tandoor
Large juicy prawns marinated & broiled
on a coal flame
Mildly spiced minced chicken rolls,
skewered & grilled over tandoor
Home made cottage cheese, marinated in fresh mint &
coriander, grilled over charcoal in our tandoori oven
Fresh seasonal vegetables, marinated in traditional tandoori
marination & grilled over charcoal in tandoor
Succelent nuggets of
marinated chicken
grilled in the tandoor
PALACE SIZZILING GRILL 28
An assortment of kebabs, a feast for kebab lovers ,
includes half order of each chicken tikka, murg malai tikka,
seekh kebab & fish tikka (serves 3 -4 guests)
Fish marinated in tandoori spices, caraway
seeds & grilled over charcoal in tandoor
Chicken breast in grilled tandoor. This mughlai dish gets
its name from the suculence of the meat after prolonged
marination & light brasing
–
ROTIYAN
–
Traditional breads freshly baked on hot walls of our clay oven
Light fluffy, very popular with our guests
Assorted appetizers, includes veg & chicken pakoras,
cocktail samosas & onion bhajia, serves 2-3 people
Whole wheat bread baked in tandoor
Crusty multi-layered naan, glazed with butter
Whole wheat multi-layered bread
Whole wheat multi-layered bread with fresh mint & herbs
Delectable tandoori bread worth tasting, stuffed
with chopped onion, cumin & mango powder
Naan stuffed with
paneer & potatoes
Stuffed with chopped chicken & herbs
Stuffed with cashew nuts & dried fruits
Assortment of kashmiri naan, onion kulcha, paneer kulcha, pratha
Long grained basmati rice cooked with pure saffron & cumin
Meats or Vegetables marinated with spices & saffron, then steamed
cooked with naturally fragrant basmati rice
CHICKEN 12 LAMB 14 SHRIMP 16 VEG 10
Homemade yogurt with cucumber, tomato
& cumin, real refreshing
Sweet mango chutney,
a great accompaniment
Diced onions, cucumber, tomatoes
with an indian dressing
Thinly sliced onions seasoned with
chaat masala & fresh lemon
A popular indian dessert made of fresh cottage cheese,
stewed with pistachio flavored reduced milk
Milk dumplings flavored with rose
water & green cardamom
Home made rice pudding with dry fruits
Tropical delicacy, very refreshing!!
Indian ice cream with pistachio
Indian style carrot pudding, served hot
CATERING PACKAGES
PICK UP ONLY – 20 GUESTS MINIMUM
$10 PER GUEST
3 Main course dishes
Choice of Rice
Tandoori Naan Raita, Garden Salad, Mix Pickles
One Choice of Dessert
$14 PER GUEST
2 choices of Appetizers
(one paneer and one veg.)
3 Main Course dishes
Choice of Rice
Tandoori Naan Raita,
Garden Salad, Mix Pickles
One Choice of Dessert
$13 PER GUEST
 1 Non Veg Main Course Dish
2 Vegetarian Main course dishes
Pulao rice
Tandoori Naan
Raita,Garden Salad, Mix Pickles
One Choice of Dessert
$15 PER GUEST
 2 Non Veg main Course Dishes
2 Vegetarian Main course dishes
Pulao rice
Tandoori Naan
Raita,Garden Salad, Mix Pickles
One Choice of Dessert
$18 PER GUEST
One choice of Non Veg Appetizer
One choice of Vegetarian Appetizer
2 Non Veg main Course Dishes
2 Vegetarian Main course dishes
Pulao rice
Tandoori Naan
Raita,Garden Salad, Mix Pickles
One Choice of Dessert
$22 PER GUEST
Two Choices of Non Veg Appetizers
Two Choices of Vegetarian Appetizers
2 Non Veg main Course Dishes
2 Vegetarian main Course Dishes
Pulao rice
Tandoori Naan
Raita,Garden Salad, Mix Pickles
One Choice of Dessert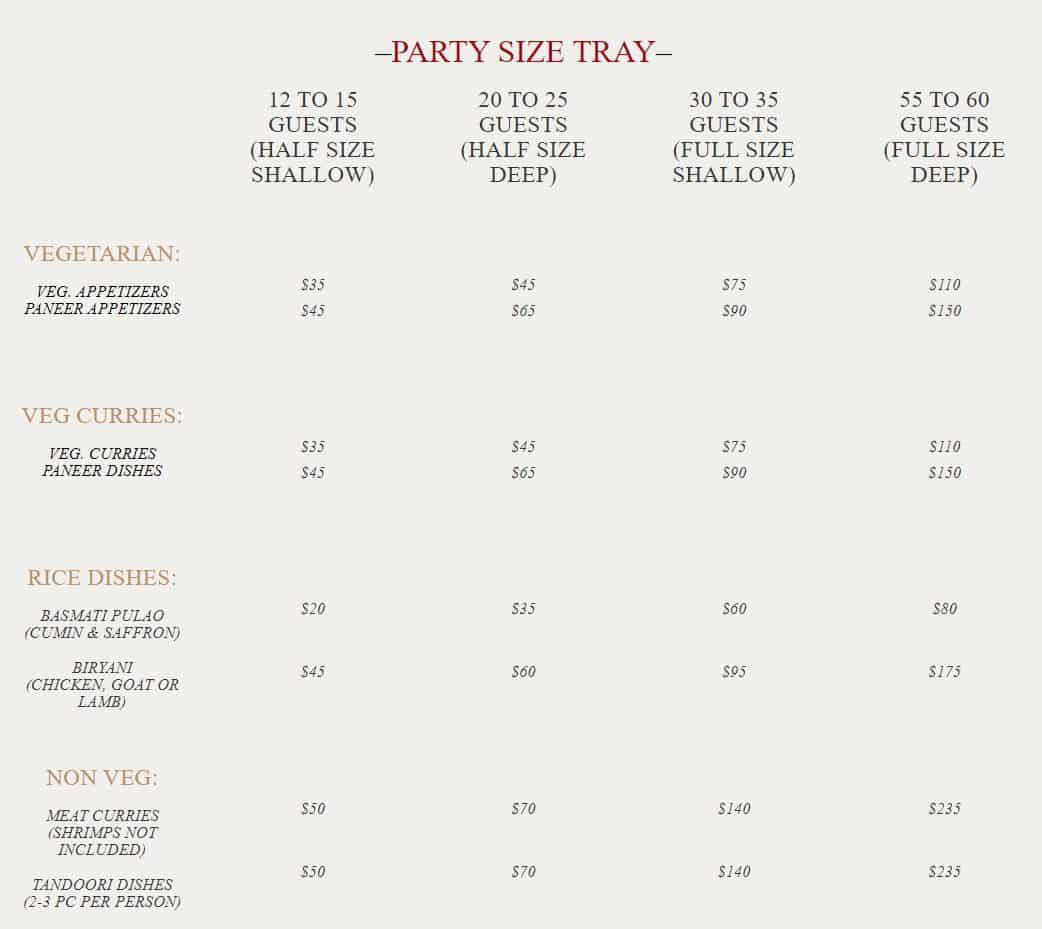 12 TO 15 GUESTS
(HALF SIZE SHALLOW)
20 TO 25 GUESTS
(HALF SIZE DEEP)
30 TO 35 GUESTS
(FULL SIZE SHALLOW)
55 TO 60 GUESTS
(FULL SIZE DEEP)
VEG. APPETIZERS
PANEER APPETIZERS
VEG. CURRIES
PANEER DISHES
TANDOORI DISHES
(2-3 PC PER PERSON)
MEAT CURRIES
(SHRIMPS NOT INCLUDED)
BASMATI PULAO
(CUMIN & SAFFRON)
BIRYANI
(CHICKEN, GOAT OR LAMB)