BOMBAY PALACE IS ALL ABOUT QUALITY RATHER THAN JUST QUANTITY!!
Our Buffet Features combination of Vegetarian and Non Vegetarian,
75 Hot and Cold Items.

Buffet Prices & Timings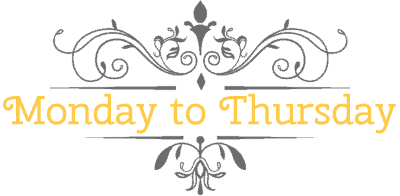 Adults $16.99
Junior (4 to 12 years) $9.99
Child (3 and under, sharing buffet) $2.99
Adults $20.99
Junior (4 to 12 years) $11.99
Child (3 and under, sharing buffet) $2.99

Adults $16.99 (Friday)
Adults $20.99 (Saturday & Sunday)
Junior (4 to 12 years) $11.99
Child (3 and under, sharing buffet) $2.99
Adults $24.99
Junior (4 to 12 years) $13.99
Child (3 and under, sharing buffet) $2.99

All prices are applicable to HST (13% tax)

Seniors (65+) applicable to 10% discount (food only)

group of 8 or more guests are applicable to 10%

gratuities
Holiday Prices and Schedule
December 20th  to January 1st
CLOSED – December 25th (Wednesday)

 
LUNCH BUFFET
(11:30AM TO 3:00PM)
$20.99 + taxes
DINNER BUFFET
(5:00PM TO 10:00PM)
 $24.99 + taxes
NEW YEAR'S EVE – DECEMBER 31ST, 2019 (Tuesday)
 DINNER BUFFET $27.99 (ADULTS) , $12.99 (Kids 4 to 12yrs)
Season's Greetings And  Happy Holidays!!
For Reservations Please Call: (905)799-9777 OR [email protected]
AT BOMBAY PALACE YOU CAN ONLY EXPECT THE BEST
Some of the Staple Dishes on our Buffet
Include
:
Appetizer stations includes Vegetable Pakoras Cocktail Samosa, fish Amritsari, Chicken Tikka, Tandoori Chicken, Chaat Papri, Pani Puri.
Vegetarian: Daal Makhani, Paneer Lababdaar, Malai Kofta, Palak Paneer, Channa Masala, Eggplant Bhartha, fresh Vegetables of the day, Mushroom Kaju Mattar
Non Vegetarian: Butter Chicken, Goat Curry, Lamb Vindaloo, Chicken Jalfrezi, Tandoori Chicken, Chicken Malai Tikka
Hakka Chinese Dishes: Chilli Chicken, Vegetarian Manchurian, Vegetable Chowmien, Veg. Spring Rolls
Freshly Baked Tandoori Breads served right at your table, choice of Bread includes, Plain Naan, Rogani (Buttered) Naan, Garlic Naan, Whole Wheat Roti  
Salad and Condiments includes, Raita (yogurt), sweet Mango Chatni, Mixed Pickles, Carrot Pickles, Green Mango Salad, Macroni Salad, Mixed Bean Salad, Garden and Ceasar Salad, HomeMade coleslaw, Tandoori Chicken Salad, Papad are some to list
Desserts, some to name are, Homemade Fresh Rasmalai, Gulab Jamun (Served Hot), Fruit Custard, Kheer (our famous homemade Rice Pudding), Fresh Seasonal Fruits, Italian Pastires, six Flavours of icecreams, 
Are you Vegetarian??  Even though Bombay Palace is not  ALL Vegetarian establishment, we ensure that Vegetarian food does not come in contact with the Non Vegetarian Dishes. We also ensure that there is a substantial  enjoyable variety for Vegetarians.  Plz let your server know, We will serve additional variety of vegetarian dishes right at your table at no extra cost.
Kids are never ignored, As we encourage kids visiting Bombay Palace to come out of their usual comfort zone and not stick with only pizza and fries, we want them to try what Bombay Palace specializes in,
At the same time, if required, Chefs always have kids friendly menu items at their hands reach away, which in no time can be brought to your table directly at no extra cost,  choices like pasta , macaroni and cheese, chicken fingers, French fries, to make sure everyone is well fed and content before they leave our building.
To make kids experience even more memorable, there is a treasure chest available, where kids can help themselves to a complimentary toy.